Sweet flag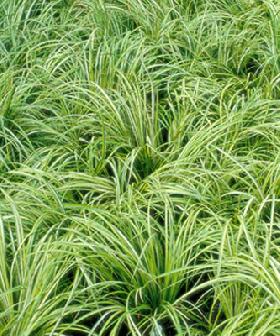 This native perennial plant is 1-4' tall, consisting of tufts of basal leaves that emerge directly from a spreading rootstock. These basal leaves are erect and sword-shaped, resembling the basal leaves of Iris spp. (Irises), but more green. They are flattened (on one side more than the other), smooth along the margins, and have parallel veins. There is often an off-center ridge/indentation along the length of each leaf. Sometimes the base of the leaves or their margins are slightly red. Some leaves develop a cylindrical spadix that is about 2–4" in length and semi-erect. This spadix is covered with tiny greenish yellow flowers in a diamond-shaped pattern. Each flower has 6 tepals and 6 stamens. The spathe is regarded as absent by some authorities, while others consider the spathe to be a bract-like extension of the basal leaf. The blooming period occurs from late spring to early summer and lasts about a month. Both the crushed foliage and rootstocks have a pleasant aromatic fragrance. Because Sweet Flag is a sterile polyploid species, it doesn't produce any fruit with fertile seeds. The root system consists of shallow branching rhizomes that are stout and knobby; they have a brown exterior and white interior. Tufts of basal leaves occur at intervals along these rhizomes, while coarse fibrous roots develop below. This plant spreads vegetatively by its rhizomes and often forms colonies.

Cultivation: The preference is full or partial sun and wet mucky ground or shallow water along shores. This species is semi-aquatic. It is fairly easy to establish from pieces of the rhizome.

Range & Habitat: Sweet Flag occurs occasionally throughout Illinois, although it is less common or absent in the NW and southern areas of the state (see Distribution Map). Habitats include sedge meadows that are prone to flooding, edges of small lakes and ponds, marshes, swamps, seeps and springs, and wetland restorations. Sweet Flag is probably circumpolar in its distribution, occurring as a native species in both North America and Eurasia. However, some authorities regard it as an introduced species that was originally native to India, central Asia, and Eastern Europe. In Western Europe, it can be considered an introduced plant. Because Sweet Flag is usually found in native wetlands, rather than disturbed habitats where weedy plants occur (e.g., roadside ditches), it seems more likely to be a native species. Amerindians may have assisted its distribution in many areas of North America.
Light: Sun,Part Sun

Zones: 4-11

Plant Type: Perennial,Water/Bog Plant

Plant Height: 6-48 inches tall

Plant Width: 6-24 inches wide

Flower Color: Flowers are not showy, but the variegated creamy white and green foliage is attractive

Bloom Time: Blooms are not showy

Landscape Uses: Containers,Beds & Borders,Groundcover

Special Features: Attractive Foliage,Fragrant,Tolerates Wet Soil,Deer Resistant,Easy to Grow
Free Sweet flag
Simply you have to apply for Free Sweet flag and will get your Free Sweet flag at your door step with no any cost.
Click Here
, if you are Interested to get Free Sweet flag . Advertise here