Dog's tooth violet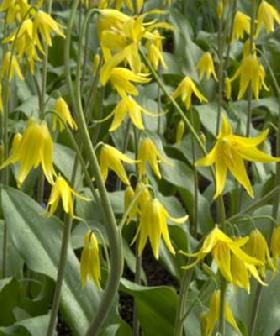 'Pagoda' is an outstanding hybrid of a North American erythronium, closely related to E. californicum 'White Beauty', another fine variety. They are beautiful plants, easily grown if provided with the moist soil and leafy woodland conditions they are used to in the wild. Perhaps the most graceful of all spring-flowering bulbs, their reflexed blooms resemble small Turk's-cap lilies in the way they are suspended on elegantly arching stems. The bulbous plants develop young offsets freely and sometimes underground runners, so they build steadily into impressive clumps that are best left undisturbed. The Royal Horticultural Society has given it its Award of Garden Merit (AGM).
Common Name: Dog's-tooth violet
Genus: Erythronium
Species: grandiflorum
Skill Level: Experienced
Exposure: Partial shade, Shade
Hardiness: Hardy
Soil type: Well-drained/light, Acidic, Chalky/alkaline, Moist
Height: 30cm
Spread: 10cm
Time to divide plants: May to June
Free Dog's tooth violet
Simply you have to apply for Free Dog's tooth violet and will get your Free Dog's tooth violet at your door step with no any cost.
Click Here
, if you are Interested to get Free Dog's tooth violet. Advertise here