Pump-Free Garden Sprayers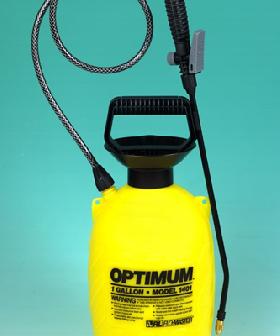 The Bottom Line
You have to pump most garden sprayers before they will discharge their contents. Black & Decker GSP014 garden sprayers require no pumping. They have a battery that does the work for you! However, these garden sprayers leak! And holding down their "switch button" to discharge the contents is tiring on the thumb -- definitely grounds for a "thumb's down!"
Pros
No need to pump Black & Decker garden sprayers -- a time and energy saver!
Cons
These garden sprayers leak!
A "switch button" replaces the "trigger" to which I am more accustomed. I find it less comfortable.
Description
Garden sprayer's battery holds its charge for up to 10 tanks' worth of spraying.
Battery is 14.4 volts and rechargeable (charger comes with garden sprayer).
Velcro hose holder for easier storage.
Garden sprayer's tank holds 1 1/4 gallons.
The tank is translucent, so that you can easily check on the level of the contents.
Indicators on the garden sprayer's tank are in gallons and liters.
Lightweight at 3 lbs.
The sides of these garden sprayers are concave, so as to fit up against your hip while spraying.
Shoulder strap makes the garden sprayer easier to carry around.
Black & Decker's garden sprayers will spray up to 15 feet (when set to "stream" mode).
Guide Review - Pump-Free Garden Sprayers
These pump-free garden sprayers have a rechargeable 14.4-volt battery. The garden sprayers hold a charge for up to 10 tanks' worth of spraying. It's nice being able to spray without worrying about pumping.
That's the good news about these garden sprayers. The bad news, however, is two-fold. I'm afraid the bad news outweighs the good.
A "switch button" replaces the more customary trigger as the mechanism you squeeze to discharge the garden sprayer's contents. Perhaps Black & Decker felt that the switch button feature would make storing the garden sprayers easier (no trigger sticking out). And that may be. But I think this feature is a mistake. When spraying for long periods of time, it's easier on the hand to keep a squeeze-grip on a trigger than to keep a button depressed with your thumb.
While not everyone will agree with the above criticism, the fact that these garden sprayers leak is truly damning. The leak is at the tip of the "wand," from which the contents are discharged. Here's the scenario:
You fill the garden sprayer's tank.
You finish your spraying, using only a portion of the tank's contents.
You set your garden sprayer down in the garage.
You come back to the garage later and find a puddle around the garden sprayer.
Free Pump-Free Garden Sprayers
Simply you have to apply for Free Pump-Free Garden Sprayers and will get your Free Pump-Free Garden Sprayers at your door step with no any cost.
Click Here
, if you are Interested to get Free Pump-Free Garden Sprayers. Advertise here