Ixiolirion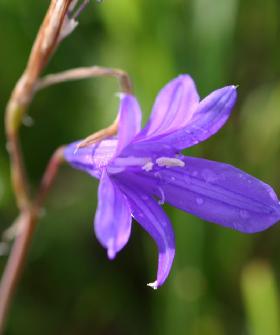 Ixiolirion is a small genus of perennial cormous herbs in the Ixioliriaceae family, with about 3 species widely distributed in central and southwestern Asia, and extending into China. According to the Flora of China this genus also occurs in Egypt. While cultivated for well over a century, and available where better selections of Dutch bulbs are sold in the fall, this highly ornamental genus is rarely seen in cultivation.
Ixiolirion tataricum Flowering the end of May and early June, slender plants growing to about 12" tall put on a fine display of royal blue trumpets, reminiscent of Triteleia. Many species names of Ixiolirion can be found, but most are reduced to synonym with I. tataricum, with two varieties described: var. ixiolirioides and var. tataricum. There is also a Chinese endemic species, Ixiolirion songaricum.
Ixiolirion tataricum is a member of the amaryllis family and is a delightful little bulb for a dry and sunny spot in your garden. It will naturalize into zone 4 (possibly down into 3) as it is a central Asian bulb from the cold, dry steppes.
If this plant is happy, it will self-sow and naturalize. It is perfect for a well-drained sunny spot (no clay) out in a pasture or late mown grass area.
The flower colour is a light purple and it flowers in late spring (May-June) for 4 weeks.
Planting
Do plant it in the fall with your other bulbs. Plant the base of the bulb 3 inches deep and put them approximately 4-inches apart.
The flower is going to grow approximately 16-18 inches tall and makes a wonderful cut flower if you can stand to cut it. :-) Wait until it naturalizes and you have plenty.
This is a no-fuss or muss kind of bulb and is easily grown.
A. Flowering Characteristics
Ixiolirion montanum flowers in late spring (May) for 15-20 days and plants are 15-24 inches tall.
B. General Characteristics
1. Origin of species: Asia Minor, Afghanistan to Syria
2. Common names:
3. Geophyte organ: Tunicated bulb
4. Hardiness type: Hardy I - Injured at temperatures below 23 degrees F (-5C) when planted.
5. Natural reproductive systems and growth and development requirements: Reproduces slowly by offsets and requires a warm (65 to 75F) - cool (28 to 32F) - warm (60 to 70F) annual thermoperiodic cycle.
6. Primary uses: Beds, rock gardens, ground covers, and woodland gardens.
C. Cultural Information
1. Bulb sizes: No. 1.
2. Planting density: 4-6 inches, 3-6 per sq. ft.
3. Planting depth: 5 inches to base of bulb.
4. Planting time: Fall
5. Perennialization habit: 1990 USDA Climatic Zones 4 to 5 with mulch, 6 to 7 without mulch.
6. Light requirements: Full sunlight to PM only sunlight.
7. Moisture: Tolerates summer drought, but requires moisture during growing season.
8. Animal susceptibility: Not reported.
D. Companion Plants:
Alyssum, Arabis, Campanula, Dianthus, Digitalis, Hemerocallis, Rhododendron spp. (deciduous and evergreen), Cotoneaster, Berberis, Acer palmatum, Deutzia gracilis, Weigela.
Free Ixiolirion
Simply you have to apply for Free Ixiolirion and will get your Free Ixiolirion at your door step with no any cost.
Click Here
, if you are Interested to get Free Ixiolirion. Advertise here