Thalia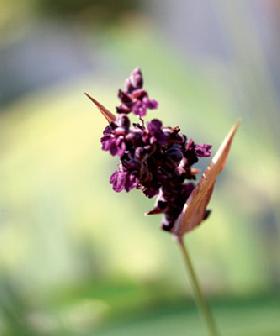 Colorful and tall, this cousin of the canna develops huge leaves that turn gold in the fall. Its flowers are perched in bunches atop tall stems and add wonderful texture to water gardens. The plant dominates the pond with its far-reaching foliage, so is best limited to one per small pond. Plant this tall aquatic in a large pot to stabilize and protect it from the wind.
Fertilizing
Annuals and perennials may be fertilized using: 1.water-soluble, quick release fertilizers; 2. temperature controlled slow-release fertilizers; or 3. organic fertilizers such as fish emulsion. Water soluble fertilizers are generally used every two weeks during the growing season or per label instructions. Controlled, slow-release fertilizers are worked into the soil ususally only once during the growing season or per label directions. For organic fertilizers such as fish emulsion, follow label directions as they may vary per product.
Light
Unless a site is completely exposed, light conditions will change during the day and even during the year. The northern and eastern sides of a house receive the least amount of light, with the northern exsposure being the shadiest. The western and southern sides of a house receive the most light and are conidered the hottest exposures due to intense afternoon sun.
You will notice that sun and shade patterns change during the day. The western side of a house may even be shady due to shadows cast by large trees or a structure from an adjacent property. If you have just bought a new home or just beginning to garden in your older home, take time to map sun and shade throughout the day. You will get a more accurate feel for your site's true light conditions.
Watering
No gardener depends 100% on natural rainfall. Even the most water conscious garden appreciates the proper hose, watering can or wand.
Watering Cans: Whether you choose plastic of galvanized makes no difference, but do look for generous capacity and a design that is balanced when filled with water. A 2 gallon can (which holds 18 lbs. of water) is preferred by most gardeners and is best suited for outdoor use. Indoor cans should be relatively smaller with narrower spouts and roses (the filter head).
Watering Hose: When purchasing a hose, look for one that is double-walled, as it will resist kinking. Quick coupler links are nice to have on ends of hoses to make altering length fast. To extend the life of your hose, keep it wound around a reel and stored in a shady area. Prior to winter freezes, drain hose.
Sprayers: Are commonly thought of as devices for applying chemicals, but can really be a step saver for watering houseplants or small pots of annuals rather that dragging out a hose or making numerous trips with a watering can. The backpack sprayer is best suited for this. Take care not to use any kind of chemical in tanks used for watering!
Sprinklers: Attached to the ends of garden hoses, these act as an economical irrigation system. Standing Spike Sprinklers are usually intended for lawns and deliver water in a circular pattern. Rotating Sprinklers deliver a circle of water and are perfect for lawns, shrubs and flower beds. Pulse-jet sprinklers cover large areas of ground in a pulsating, circular pattern. The head usually sits up on a tall stem, except for when watering lawns. Oscillating sprinklers are best for watering at ground level in a rectangular pattern.
Planting
Once you plant a perennial, it does not mean that you will enjoy years of maintenance-free gardening. Perennials need to be cared for just like any other plant. One thing that distinguishes perennials is that they tend to be active growers that have to be thinned out occasionally or they will loose vigor.
As perennials establish, it is important to prune them back and thin them out occasionally. This will prevent them from completely taking over an area to the exclusion of other plants, and also will increase air circulation thereby reducing the incidence of diseases like botrytis and powdery mildew.
Many species also flower abundantly and produce ample seed. As blooms fade it is advisable to deadhead your plant; that is, to remove spent flowers before they form seed. This will prevent your plants from seeding all over the garden and will conserve the considerable energy it takes the plant to produce seed.
As perennials mature, they may form a dense root mass that eventually leads to a less vigorous plant. It is advisable to occasionally thin out a stand of such perennials. By dividing the root system, you can make new plants to plant in another area of the garden or give away. Also root pruning will stimulate new growth and rejuvenate the plant. Most perennials may be successfully divided in either spring or fall. Do a little homework; some perennials do have a preference.


Problems
Pest : Caterpillars

Caterpillars are the immature form of moths and butterflies. They are voracious feeders attacking a wide variety of plants. They can be highly destructive and are characterized as leaf feeders, stem borers, leaf rollers, cutworms and tent-formers.
Prevention and Control: keep weeds down, scout individual plants and remove caterpillars, apply labeled insecticides such as soaps and oils, take advantage of natural enemies such as parasitic wasps in the garden and use Bacillus thuringiensis (biological warfare) for some caterpillar species.
Free Thalia
Simply you have to apply for Free Thalia and will get your Free Thalia at your door step with no any cost.
Click Here
, if you are Interested to get Free Thalia. Advertise here