Ponytail Palm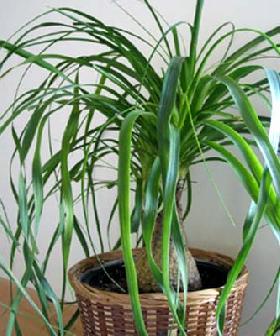 The Ponytail Palm trees are normally grown in containers and indoors. They are known by many names, such as a Bottle Palm, Monja and Elephant Foot. They can reach heights of 20 feet with the right conditions and they love the bright light. These plants are not really palms though, they are a member of the lily
family
but look more like palms. They are easy to care for and drought resistant for those of us who tend to forget to water our plants. You can give your home or office a touch of the tropics by adding a Ponytail Palm to your indoor landscape.
Caring Instructions
Place your Ponytail Palm in an area that gets full sun. The plant can be placed outdoors in the summer, but should be kept inside once the temperature goes below 55 degrees. If it is normally indoors and you take it outside, do it a little at a time until it gets used to its new environment.

Water the plant every 7 to 14 days. The Ponytail Palm stores water well and doesn't like too much water. Make sure the plant dries out to at least an inch down in the soil before you water it again. Watering deep and less frequent is better than watering a little every day. Make sure the soil is draining well and the roots are not sitting in water.

Re-pot the plant only if you want it to grow taller. This type of plant likes to be root bound so it is not necessary to put it in a larger pot if you see that there is not much soil and a lot of roots. However, if you desire the plant to be larger, re-pot it in a larger pot. Clay or ceramic work best as they have been known to bust out of plastic pots. Don't worry if it does not grow fast, Ponytail Palms are slow growers.

Mix a teaspoon of Ivory or Dawn dish soap in a quart spray bottle filled with water. If you see any bugs or mites on the plant, spray it with the mixture in the morning and again in the evening until they are gone.
Free Ponytail Palm
Simply you have to apply for Free Ponytail Palm and will get your Free Ponytail Palm at your door step with no any cost.
Click Here
, if you are Interested to get Free Ponytail Palm. Advertise here