Chinese ground orchid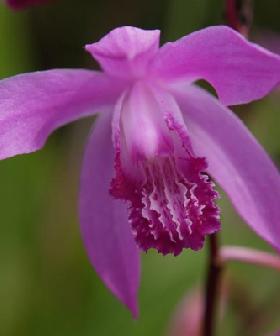 Orchids have a well deserved reputation for being finicky. Part of the allure of growing orchids by the thousands of enthusiasts is that not everyone can do it.
Most hardy orchids are just as demanding as their tropical cousins, but the hardy Chinese ground orchid (Bletilla striata) defies the norm and is so easy even novice gardeners can grow it.
Bletilla striata is one of nine species of terrestrial orchids native to parts of China, Korea and Japan. It has long been a part of the Asian pharmacopoeia, so pinpointing its original native range is difficult. It was used primarily as a treatment for various lung and breathing ailments.
Bletilla is an herbaceous plant that dies to the ground each winter. It produces flattened, corm-like, white, freely brancing pseudobulbs to 2 inches in diameter. These give rise to a single stem bearing three to five linear, stiffly upright, 18 inch long pleated, 2-inch wide leaves.
From five to 10, 2-inch wide cattleya-like purplish-pink blooms are produced at the end of the spike in mid-spring. A white flowered form is also offered but is not as vigorous as the purple form.
Thomas Evans, a wealthy merchant and patron of horticulture associated with the trading company India House, introduced the hardy orchid to England in 1802.
Evans and his daughter were on their way back to China in February 1805 aboard the Abergavenny when it ran onto rocks off the coast of England in a storm. Evans wrote a report of the sinking which took 300 lives. Evans was also responsible for the introduction of the hardy begonia (B. grandis) into cultivation.
Hardy orchids will grow in zones 5 to 9. Plants should be planted in a partially shaded site with a well drained soil amended with lots of organic matter. The pseudobulbs should be planted about 2 inches deep; in colder areas the planting area should be mulched during the winter to reduce the chance of freezing. Don't allow the plants to completely dry out during the summer or blooming will be reduced the following spring.
Plants making good growth will double the number of flowering stems annually. When the number of stems begins to level off or decline, lift and divide the clump in early spring before new growth starts. As long as the soil is well drained, hardy orchids are not bothered by serious insect or disease problems.
These easy-care orchids are a good bit smaller than the traditional florist's orchids, with bloom reaching a size of 1-2 inches. Plants grow to a height of 12 inches with clusters of 7-12 pink or purple lowers per stem. Leaves are long and narrow with lengthwise pleats. B. striata blooms from early to midsummer, and B. striata 'alba' (white) blooms from midsummer until frost. Both are very fragrant and long-lasting as cut flowers. They make delightful and decorative pot plants.
Choose a location in part shade. Chinese ground orchids prefer a moist, well-composted soil. Plant the roots about 6 inches apart and 4 inches deep in fall or early spring. In zones 6-7 they can be left outdoors over winter if mulched heavily. Gardeners in colder zones will need to dig the bulbs and bring them indoors for winter storage. Propagate in fall or spring by dividing clumps of pseudobulbs.
Free Chinese ground orchid
Simply you have to apply for Free Chinese ground orchid and will get your Free Chinese ground orchid at your door step with no any cost.
Click Here
, if you are Interested to get Free Chinese ground orchid. Advertise here