Miniature Rose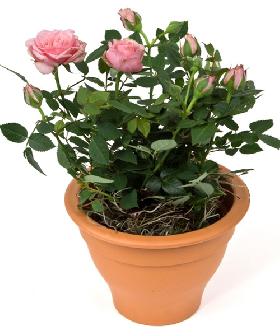 Light:

Sun,Part Sun

Zones: 4-11

Plant Type: Rose

Plant Height: 1-2 feet tall, depending on variety

Plant Width: To 2 feet wide

Landscape Uses: Containers,Beds & Borders

Special Features: Attractive Foliage,Fragrant,Cut Flowers,Easy to Grow
Gardeners limited in space can enjoy all the fun of rose growing by cultivating miniature roses in containers. They also adapt well to flowerbed edging, front-of-the-border socializing with perennials and annuals, and low hedges.<br>
Miniature roses first came into being in the early 1930s as an accidental result of rose hybridizing. Since then, master miniaturists have created many jewel-like varieties featuring perfectly shaped tiny blooms on clean, healthy plants that generally stay under 2 feet. <br>
Miniature roses respond to all the care basics as regular-size roses: deep irrigation, sunshine. and regular fertilizing, but they do need extra winter protection in colder climates. To ensure they don't die back to the roots, in Zone 5 and below, bury the rose plant in a mound of soil.
Free Miniature Rose
Simply you have to apply for Free Miniature Rose and will get your Free Miniature Rose at your door step with no any cost.
Click Here
, if you are Interested to get Free Miniature Rose.