Littleleaf Linden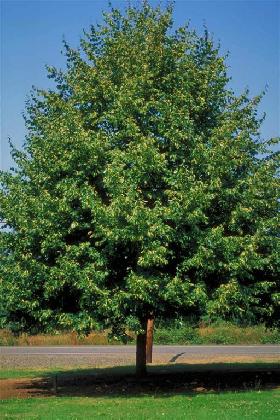 How to Grow a Littleleaf Linden Tree
As a rule, shade trees don't have very interesting flowers or a scent. But, the hardy littleleaf linden (Tilia cordata) is the exception to the rule. Glossy, dark green heart-shaped leaves appear in spring, followed in June by small yellow-green flowers. The flowers are humble, but the fragrance will fill the air. Follow these easy steps to enjoy a littleleaf linden in your garden.
Instructions
Select a planting site. The littleleaf linden prefers moist, well drained soil but can tolerate compacted soil. Acidic or alkaline soil is acceptable. The tree should be planted in a site that receives full sun.
Prepare the linden for planting. The littleleaf linden is usually purchased as balled-and-burlapped specimens. Remove any twine or wire and half of the burlap covering the root ball with a knife or shears.
Dig the planting hole at least 4 times the width of the tree's root ball. The hole depth should be equal to the height of the root ball so that when the tree is placed in the hole the root ball will be even with the surrounding ground.
Position the littleleaf linden in the planting hole. Backfill a small portion of the original soil to keep plant erect. Fill planting hole with water, and allow it to be absorbed by the soil and root ball. Fill the planting hole with the remaining soil, and water again deeply. This step provides additional moisture and helps eliminate air pockets from the soil.
Spread a layer of mulch 2 to 4 inches deep around the base of the tree and over the entire planting site. Care should be given not to pile the mulch too high on the trunk.
Tips & Warnings
· The littleleaf linden is a deciduous broadleaf tree that will grow well in hardiness zones 3 through 8. Check the USDA Hardiness Zone map for your zone.
· The littleleaf linden requires regular watering of 1 1/2 inches of water per week. Soaker hoses are a useful tool with this tree particularly during times of drought. Be sure to give it a good soaking in late fall, just before the ground freezes.
· Fertilize in early November. The littleleaf linden benefits from and will grow more rapidly from regular fertilization during the first 5 to 10 years after planting.
· This linden requires little pruning. Remove dead branches and maintain shape. The littleleaf is, however, an excellent hedge tree and can be successfully sheared for the formal garden.
The littleleaf linden grows 60 to 80 feet in height and 30 to 40 feet wide. It has a dense, pyramidal canopy that makes it an excellent shade tree.
· Unfortunately, the littleleaf linden is a favorite snack of the Japanese beetle. The pest causes the leaves to look unsightly, but rarely does any real harm to the tree. Use an insecticide or knock the beetles off the leaves into a pan of boiling water. Aphids can also be a problem for the tree.
Light: Sun
Zones: 4-8
Plant Type: Tree
Plant Height: To 80 feet tall
Plant Width: To 50 feet wide
Landscape Uses: Beds & Borders,Slopes
Special Features: Flowers,Attractive Foliage,Fragrant
Free Littleleaf Linden
Simply you have to apply for Free Littleleaf Linden and will get your Free Littleleaf Linden at your door step with no any cost.
Click Here
, if you are Interested to get Free Littleleaf Linden. Advertise here