Species Rose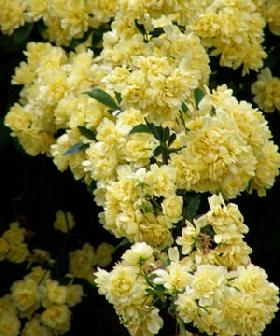 Light: Sun,Part Sun

Zones: 4-9

Plant Type: Rose

Plant Height: 4-20 feet tall, depending on species

Plant Width: 3-10 feet wide, depending on species

Landscape Uses: Containers,Beds & Borders,Slopes

Special Features: Attractive Foliage,Fragrant,Winter Interest,Attracts Birds,Deer Resistant,Easy to Grow
If you favor a slightly wilder look in your garden, look to the ancestors of roses you grow and enjoy for many of the same admirable qualities. Most species roses offer small blooms, and they usually appear only once a season, but the landscaping benefits make them worthwhile to include in borders and background plantings. Most species roses can tolerate extreme weather conditions and because of their colorful hips (fruit), they are good choices for attracting birds and other wildlife to the garden. The canes are often vigorous and arching. Stems may be highly colored but are almost always thorny, making large species good candidates for privacy hedging and deer-frequented areas.
Free Species Rose
Simply you have to apply for Free Species Rose and will get your Free Species Rose at your door step with no any cost.
Click Here
, if you are Interested to get Free Species Rose.