Ash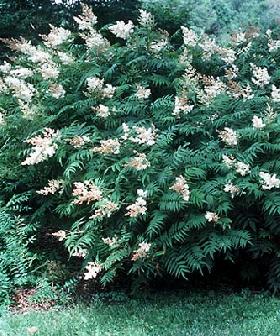 Ash trees are beautiful shade trees,and can be planted nearly nationwide...
Among the most widely planted and popular trees, the Ashes have a variety of uses and products. The genus is Fraxinus, and these are in the Olive Family (Oleaceae). They are planted nearly nationwide, in a wide variety of soil conditions and climates, in parks and public spaces, around commercial buildings, and certainly a popular landscape tree.
There are somewhere between 40 to 60 types of ash trees growing throughtout the United States. In the Eastern half you can find the White Ash (Fraxinus americana), the Black Ash (Fraxinus nigra), the Water Ash (Fraxinus caroliniana), the Indigo Ash (Fraxinus tremillium), the Blue Ash (Fraxinus quadrangulata), the Green Ash (Fraxinus pennsylvanica) and the Pumpkin Ash (Fraxinus profunda).
The Ash are hardy, few insects or disease problems, and many can be planted from Zones 2 to 9. The Ash branches are strong, the wood is heavy and dense which makes for excellent firewood, and they make great shade trees. Many of the Ash have brilliant fall color, in particular the newer hybrid varieties. Overall, for shade, beauty, and to have a moderately fast growing tree to fill in that empty space in the landscape design
Instructions
Prepare the ground for the tree. Dig a hole large enough to place the base of the tree into and in an open area with enough room for the tree to grow. Most ash trees prefer full sunlight and all but the European ash prefer sandy or loam soil with a pH balance between 3.5 and 7.
Water the tree regularly. Ash trees require moist soil to grow, especially when they are young. When they grow older and the roots grow deeper, less water is required. Ashes are extremely fast growing trees.
Prune the ash in the Fall months. Canker or dieback may occur. This is normal. Remove the dead limbs yearly. Normally there are very few branches and no pruning is needed until the tree is about 15 feet high.
Protect your tree from insects, diseases and other issues. Ash trees are susceptible to scale and bore insects, rust and anthracnose disease.
The ash tree is not an evergreen. During the fall the leaves turn yellow-orange and brown, making it a great tree for fall foliage.
Use compost fertilizer to increase the speed of growth in ash trees.
Light: Sun
Zones: 2-9
Plant Type: Tree
Plant Height: 30-80 feet tall
Plant Width: 30 to 50 feet wide
Landscape Uses: Beds & Borders,Privacy,Slopes
Special Features: Attractive Foliage,Fall Color,Attracts Hummingbirds,Drought Tolerant
Free Ash
Simply you have to apply for Free Ash and will get your Free Ash at your door step with no any cost.
Click Here
, if you are Interested to get Free Ash. Advertise here