Oxalis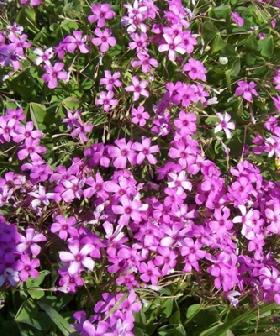 The name Oxalis come from the Greek word oxys (i.e. sour) and it is named so because of the sour taste of its leaves. It is also called lucky clover, wood sorrel, Good luck plant and so on. It is a perennial type i.e. it can last for more than 3 seasons. It belongs to Oxalidaceae family and its native is Africa, Europe, South America, Asia and Iceland. It flowers in different attractive colours like pink, white, purple or yellow and have five petals. It grows everywhere except polar region. They usually grow from bulbs and can grow up to 6 to 10 inches high. This plant consists of leaves which are divided into 3 or 4 circle or triangle shaped leaflets and in most cases all leaflets will be in same size and hence its leaves are 3 or 4 leaf clover and all the leaflets are more or less equal in size. The leaves will be in green or deep red colours depending upon its species. In some of the species the leaves will close in the night time. It is lemon flavoured. Its fruit will be small and holds many seeds in it. Its herbs contain vitamin C and these plants cure minor stomach problems and still more medical uses but excess eating of its leaves must be avoided. It can also be used as cut flowers.
Cultivation : Oxalis can be easily grown from seeds or roots. Tuber or seed must be buried in soil for about 4 to 5 cm depth and while burying more seeds or tubers leave adequate spacing between them. Soil must be moist, well drained and avoid the soil becoming too wet hence too wet soil will decay the roots of the plants. For better growth, choose warm sunny location and humidity level must be moderate. A normal good growing plant doesn't need to be fertilized continuously hence fertilizing once a month is enough. When the plant become tired it will starts yellowing its leaves and hence shed its leaves. In such cases just fertilize and water the plant regularly it will starts growing after some interval.
Water the plant regularly but excess watering must be avoided which case rotten leaves and for some species watering in winter must be avoided which also case rot leaves. Growth by container will also give best growth. Cover the plant with organic mulch to protect from winter frost, which also provides nutrients to the plants.
Propagation : Oxalis can be propagated by sowing seeds in containers in a cold frame. It must be placed in containers after it ripe. If growing oxalis in containers select a large pot with drainage holes and water it regularly and for good growth of plants add fertilizers. When the seeds finished growing to some extend take it out from the container and plant in the place you preferred in early summer.
Also be propagated by dividing the tubers, bulbs, and corms when the growth stopped due to winter frost and keep it in a place free from frost and replant it in summer.
We can also propagate by lifting the plant in spring along with its underground roots; prefer the plant, which is about 8 to 9 cm tall. The lifted plant must be planted in tubs in cold frame and must be kept in light shade location till the plant starts growing well, then plant it in outdoor during summer.
Varieties : There are more than 900 different species in oxalis plant. The most popular species are oxalis origana also called Redwood sorrel, oxalis brasiliensis, oxalis acetosella, oxalis regnelliia, oxalis rubraa and oxalis purpurea. Many of the oxalis species belong to Wood-sorrels and some of its species are yellowsorrels or pink sorrels depending on its colour.
All species flowers consist of 5 petals and 3 or 4 clover leaves, some may even consist up to 10 leaflets. Some species fold its leaves downward when there is direct sunlight and will reopen after shade comes.
Name of some of other species are oxalis acetosella, oxalis alpine, oxalis arenia, oxalis ausensis, oxalis carnosa, oxalis callosa, oxalis convexula, oxalis corniculata, oxalis debilis, oxalis eggersii, oxalis exilis, oxalis glabra, oxalis hitra, oxalis inaequalis, oxalis livida, oxalis laciniata, oxalis luteola, oxalis mallobolva, oxalis micrantha, oxalis Montana, oxalis natans, oxalis obtuse, oxalis oligophylla, oxalis pardalis, oxalis ruba, oxalis tenuifolia, oxalis polyphylla, oxalis rosea, oxalis trilliifolia, oxalis versicolor, oxalis volcanicola and so on.
Disease and Cure : Oxalis plant growth is disturbed by constant weeding, hence any organic solution or weed killer must be used to get out of this problem but it takes several years to come out of this problem.
Decay of leaves and reduction in the lifetime of plants are caused by fungal diseases and when planted in waterlogged areas. Care should be taken to protect the flower from fungal diseases by using fungicides hence control of this problem is very difficult. This problem usually occur plants grown in outdoor.
If needed use pesticides and fungicides, but in most cases oxalis is resistant to pests or diseases. Check slug and snail formation in plant, hence it will destroy the plant very easily but its formation is very rare in case of oxalis plant.
Free Oxalis Bulbs
Simply you have to apply for Free Bulbs and will get your free bulbs at your door step with no any cost. Click Here, if you are Interested to get Free Oxalis Bulbs.
Free Oxalis
Simply you have to apply for Free Oxalis and will get your Free Oxalis at your door step with no any cost.
Click Here
, if you are Interested to get Free Oxalis . Advertise here