Hippeastrum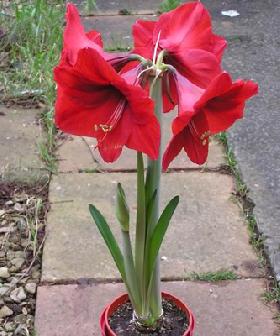 Found from Central America to the subtropics of South America, Hippeastrum are commonly called amaryllis, and while they should not be confused with the genus of that name, they do indeed belong to the same family, the Amaryllidaceae. About 80 species of bulbous, deciduous, spring- to summer-flowering perennials make up the genus. These plants are best suited to climates that do not experience frost, but for gardeners in cooler climates, they can be grown as greenhouse or conservatory plants, and also make excellent house plants. While the typical color range of the species encompasses reds, pinks, and white, the modern hybrids occur in an array of patterns and extend the color range to include pale translucent yellows.
Flowering Season: , Winter, Spring
Appearance
Hippeastrum species and cultivars produce long, strap-like, rather fleshy, mid-green leaves and magnificent, large, funnel-shaped flowers borne on strong flower stems. The flowers are made up of 6 petals, comprising 2 whorls of 3 petals, and commonly occur in shades of red, orange, white, or pink. Cultivars have extended the color range to include yellow shades, and the flowers, which open in late winter, are variously patterned. There are also double-flowered types.
Cultivation
These plants can be grown outdoors only in mild frost-free areas. For climates where frost is experienced they can be grown indoors in pots, or as greenhouse or conservatory plants. They will do best in a bright but not overly sunny position in moist, well-drained, humus-rich soil. The large bulbs should be planted with the neck of the bulb exposed above soil level. They have quite demanding water and nutrient requirements while in growth, so ensure that they receive ample water and nutrients at this time. Keep dry in winter while plant is in its winter dormancy. Propagate from natural offsets or seed.
Best look
pots cut flowers mass plantings naturalised in a large garden
Good points
large spectacular flowers wide range of colours and sizes will tolerate light to dappled shade and fairly average soil almost indestructible
Downside
very attractive to slugs and snails they only flower for 2-3 weeks
Care
Plant bulbs in autumn in well drained soil enriched with organic matter, such as cow manure. In pots, add Osmocote or Nutricote. An open position in full sun is best, and the neck of the bulb should be showing above ground level. Keep moist during the growing season but allow to dry out a little during July and August. Protect from slugs and snails.
Free Hippeastrum
Simply you have to apply for Free Hippeastrum and will get your Free Hippeastrum at your door step with no any cost.
Click Here
, if you are Interested to get Free Hippeastrum. Advertise here