Galanthus (Snowdrops)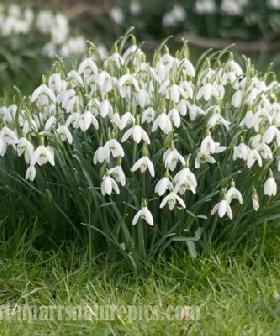 These are hardy bulbs, originally from Europe and Asia Minor. Two or three straplike leaves, dark green in color, grow from each bulb. The white flowers are usually borne singly, mostly in early spring but sometimes in mid to late winter, which makes them the earliest flowering bulb. In the south they may bloom from late fall through winter. The three inner petals have green tips and overlap the outer petals to form a tube.
The bulbs should be planted 3-4 inches deep in early autumn in fertile soil. They will thrive in sun or shade. Use the in rock gardens or as an edging plant. Galanthus are also a good choice for forcing, naturalizing, and planting in lawns. Plant them with other early bulbs such as miniature irises and chionodoxa.
Characteristics of Galanthus
Galanthus (see picture at right) produce one small (1" or less), white flower, which hangs down off its stalk like a "drop" prior to opening. When the bloom opens, the eye beholds 3 outer petals arching out over 3 inner petals. The leaves are shaped like narrow blades, which grow about 4" long. Galanthus are perennials and will frequently naturalize.
Sun and Soil Requirements for Galanthus
Galanthus take full sun to partial shade. Grow them in well-drained soil that has plenty of humus. Galanthus nivalis is a good choice for an area with dry shade.
Uses for Galanthus in Landscape Design
You can plant Galanthus nivalis under deciduous trees without worrying that your Galanthus won't receive sufficient sunlight, since they bloom before the leaves come out on trees. As petite plants that crave good drainage, Galanthus are also well suited for rock gardens, where they'll provide some early-season interest.
Outstanding Feature of Galanthus
As the "snow" in their name suggests, Galanthus are among the earliest bloomers in the yard. Depending on your region, they will bloom in February or March. Galanthus may not even wait for the snow to melt before emerging from their winter sleep, instead pushing right up through the snow -- a delightful sight for the winter-weary!
Galanthus care
1. Avoid planting single bulbs – they are much happier in company! Small groups are best.
2. Lift established clumps after flowering, split the clump in 2, replanting half back. Divide the remainder again and make 2 new clumps. Do this every other year. Congested clumps will eventually fail to flower.
3. Make sure that neighbouring plants are not smothering the snowdrops, either with their roots are their leaves. Move the snowdrops to a new location if necessary.
4. Snowdrops can be planted either in the autumn as dormant bulbs – make sure that they are freshly lifted and not hanging around in a hot garden center as they have a very short 'shelf' life, or as bulbs in growth which are moved in the spring just after flowering.
5. Do not plant them in pots; they are very difficult to grow successfully like this. If it is necessary to leave them in pots for a short time – during removal etc, then use a large pot with a light, humus rich compost with some loam and plunge the pots in a shady place. Plant them out as soon as possible.
Free Galanthus (Snowdrops)
Simply you have to apply for Free Galanthus (Snowdrops) and will get your Free Galanthus (Snowdrops) at your door step with no any cost.
Click Here
, if you are Interested to get Free Galanthus (Snowdrops). Advertise here