Eremurus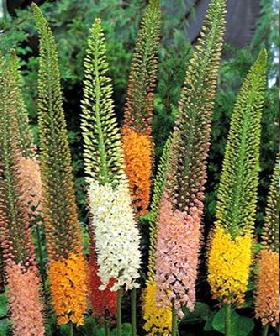 Eremurus, or foxtail lily, is one of the most dramatic of garden perennials. Tall slender spikes are lined with hundreds of starry flowers in white, pink, yellow and orange shades. But this is a case when it's important to choose named plants, don't raise plants from seed unless you don't mind what colours you end up with.
Dutch hybridiser N. C. Ruiter raised many fine varieties derived from crosses between yellow E. stenophyllus and the rarely seen pink E. olgae. Selections have been made from these Ruiter Hybrids over many years but they often deteriorate in quality. It's good advice to buy them when they're first released.
So the time is right for 'White Beauty', a gorgeous new white form. At 4-5ft/1.2-1.5m in height, 'White Beauty' is a little more manageable in height than many and much more likely to be self supporting in most gardens. The buds open from the bottom up to create quite a spectacle and a clump of three or five plants really is impressive – especially set against the plain green background of a trimmed hedge.
'White Beauty' will also makes a fine cut flower – so order plenty of plants. Cut the spikes when the bottom third of the flowers have opened and keep them upright – if you lay them on the ground, as well as damaging the flowers the tips will tend to turn towards the light and you'll lose that straightness in the spike. They take up a lot of water, so be prepared to keep topping up; they should last about two weeks.
PLANTING:
Foxtail Lilies are fully to frost hardy. They should be planted in a sunny, warm, sheltered area to protect against strong winds; they rarely need staking when they are given shelter. Choose the position carefully as Eremurus resents being disturbed, do not divide or transplant it unless absolutely necessary. They need winter cold to flower, they can be grown in ordinary, acid to neutral soil; it must be well-drained, but loamy soil that is enriched with peat, well-rotted manure and plenty of sharp sand added is the best. They should be planted in early autumn and never allowed to dry out. Dig a hole large enough to accommodate setting the crown on a mound of soil in the base of the hole.
The roots should be spread gently on top of the mound so that they are not crowded. The crowns should be placed 4 to 6 in. (10cm-15cm) below the surface. Protect the crowns with a mulch of dry straw or bracken in early winter. In the spring, they usually begin to grow before the frosts are gone and therefore could be damaged. To prevent this, cover the shoots at night until the weather is safe with an up turned, wooden box or a large plant pot, containing straw, until the weather is safe for them to be unprotected. This should only continue until the threat of frost are gone, otherwise it might encourage the new growth to rot.
When the foliage dies down in the summer, mark the plant's position to avoid damaging them while they are dormant. Keep a watchful eye out for slugs, these greedy pests love the new growth and so keep beer traps or one of the new organic slug control treatments at the ready.
PROPAGATION:
Seed - best sown as soon as it is ripe in the autumn in pots or trays in a cold frame. Germination is slow and could take 1 - 12 months at 15°c. Prick out the seedlings into individual pots as soon as they are large enough to handle and grow on for their first winter in a greenhouse. Plant out into their permanent positions in late spring after the last expected frosts. Do not plant deeply in the soil; the crown of the plant should be slightly exposed. Division after the plant dies down in late summer. Great care must be taken because the plants resent root any form of disturbance.
DIVISION:
Increase Foxtail Lilies by lifting and dividing old plants when their crowns grow up and out of the soil. Only divide the plants when it is really necessary, and no more frequently than once every 6 years. Take care when lifting and dividing the roots because they are very brittle.
SPECIES & VARIETIES:
Robustus
Himalaicus
Elwesii
Bungei
Olgae
Tubergenii
Warei
Shelfordii
Stenophyllus

Eremurus VARIETIES:
Eremurus: (The Ruiter and Shelford hybrids.) The height of these hybrids lies in the middle range for Eremurus - 40 inches (100 cm.). Flower colours are gorgeous pastels of salmon, yellow and orange. Certain cultivars display striking colour combinations. One, 'Cleopatra' (1956), is orange with a stunning dark vein. 'Pinocchio' (1989) is lemon yellow with bright orange stamens. Flowering occurs in May-June.
Eremurus Bungei: This is one of the middle height groups of the Eremurus species 4 ft. (120m). Flowers start appearing in June and are golden yellow in colour. This small species is found in Afghanistan and Kurdistan.
Eremurus Robustus: Specimens may reach 10 ft. (3m.). The flower cluster itself is over 40 in. (100 cm.) tall and consists of 700 - 800 soft pink flowers, which bloom in June. Leaves blue-green, strap-like.
Eremurus Himalaicus: This is a large, white flowering species growing up to 6 ft. (2m.) tall with flower clusters measuring up to 36 in. (90 cm.) in length.
Eremurus Stenophyllus: Flowers in racemes, yellow, fading to orange in midsummer. This lovely plant grows to 3 ft. (90cm).
Free Eremurus
Simply you have to apply for Free Eremurus and will get your Free Eremurus at your door step with no any cost.
Click Here
, if you are Interested to get Free Eremurus.