Corydalis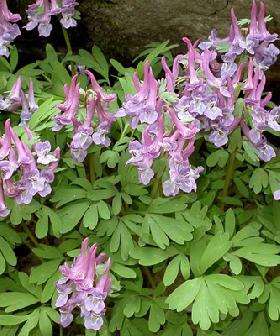 Corydalis lutea is a must-grow in the shade garden. This shade loving perennial is the longest blooming plant in my garden; starting throwing yellow blossoms in mid-June and not finishing up until the deepest frost knocks it back. Here's how to grow it.
How To Grow
Grow in shade to part shade in well-drained soils. This plant does not like clay and will winter-rot if left in sitting water. Conversely it will not thrive in dry gardens. It may live or exist in those areas but blooms will be severely curtailed. Give this plant a well-drained soil but a good one with moderate water. Corydalis lutea is hardy into USDA zone 3 and rock hardy in USDA 4.
Propagation
Purchase your first plant. After this, the plant self sows like crazy if happy. I find that a deep mulch stops the self sown seeds from germinating but a nearby walkway or gravel pathway (or lower level of mulch) will provide an excellent germinating area. In my previous garden, I had as many new plants in the gravel walkways as I did in the garden itself.
Move any volunteer seedlings in the early spring when you see them starting. They move and transplant easily at this time. Mature plants can be a bit unhappy about being transplanted and will sometimes simply die for no reason.
Do not try dividing Corydalis lutea unless you wan to kill garden plants.
Free Corydalis
Simply you have to apply for Free Corydalis and will get your Free Corydalis at your door step with no any cost.
Click Here
, if you are Interested to get Free Corydalis. Advertise here