Calatheas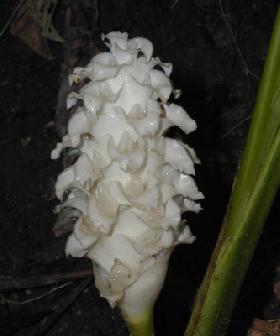 Calathea is tropical plant that is also known as the Zebra Plant. These plants are used mainly for their vibrant colorful leaves. Colors include yellow, rose, white, and even olive. The Calathea grows to a height of 6 to 36 inches. They need at least 55 degrees to survive in the winter months.
There are several varieties of Calathea. The leaves of the Calathea insignis (also called Rattlesnake Plant) are wavy edged and can grow to as long as 18 inches. These leaves are pale green on top with dark green blotches with the underneath is dark maroon.
The Calathea makoyana is also called either the Cathedral Windows or Peacock Plant has leaves that are unique in that they have transparent type windows on them. They are oval in shape and pale green in color and have blotches that are dark green and oblong with creamy white type feathering.
Calathea Flowers
The flowers of this plant are shaped tubular and manifest short, irregular thick spikes that are white in color, and lobes that are purple. Another variety is the Calathea majestica or sanderiana, which has leathery leaves that are shaped oval and are olive green in color. The leaves have glossy tops with plum red on the bottom or underneath and they have white and pink stripes. These flowers are mauve or white color and have yellowish brown bracts. These are only a few of the varieties of Calathea.
Calathea can be tough to grow for the average person. But with a little diligence on your part, you can overcome the problems and grow them successfully. Here are some requirements to grow them successfully:
* First thing, these plants only need a moderate amount of light. No direct sunlight needed filtered light is best. Too direct of sunlight will change the leaf color and cause burning of the leaves.
* The ideal temperature for the Calathea is 60 to 70 degrees F. If a warmer room is involved, however, you will need to increase the humidity, which is discussed next.
* These plants thrive with humidity you may have to create an artificial environment to accommodate this. This is done by putting the pot on a tray filled with rocks or pebbles. Also, you can actually just run a humidifier near them.
* The Calathea loves moisture not wet feet. When the few top inches of soil are dry but deep down is still moist water again. Let the water reach room temp before using. This is accomplished by letting the water stand for about 15 minutes at this point it can be used.
* Every year you need to examine your Calatheas to see if their roots need a larger pot, if they do simply pot them into larger pots.
* Also, Calatheas do not like drafty rooms either. In too cold of climates, you will need to use greenhouses or only grow inside the house. If grown outside though make sure to use plenty of compost for drainage and plant in the shade to keep the leaves from getting burned.
* You can propagate these plants by separating them into sections and pot the sections. Do this in the spring when you check them for repotting.
How to Care for a Calathea Plant
The calathea is a beautiful houseplant with large variegated leaves in colors of green, white, yellow and purple(depending on the species), growing on short stems. It's not an easy plant to grow, but if you are up to the challenge and give it good care, you can be successful.
Instructions
Provide a calathea with moderate light. Direct sunlight will make the leaf color less attractive and possibly burn the foliage. A window with direct sunlight coming in should be shaded by a transparent curtain. The best place for a calathea is an east or a west window with either a curtain or shade from a tree.
Increase the humidity of your calathea's environment. High humidity is essential to a calathea and unfortunately, most homes have low humidity. Increase the humidity by placing the plant on a tray of pebbles, placing it around other plants and misting it with soft water daily. Running a humidifier near the plant is a drastic but more successful method.
Give a calathea a temperature of 60 degrees Fahrenheit to 70 degrees Fahrenheit. A somewhat warmer room will be tolerated, however the warmer the room the more humidity the plant needs. Because increasing the humidity sufficiently is challenging, temperatures less than 70 degrees Fahrenheit are best.
Water your calathea frequently enough to keep most of the potting mix moist. When the top of potting mix is dry but there's moisture several inches into the soil (gauge by sticking your finger down into the potting mix), it is time to water. The water must be room temperature, so let the water sit in your watering can for 15 minutes before watering.
Check the calathea every spring to see if it needs repotting. If roots have wrapped around the bottom of the plant, move the plant into the next size pot.
Free Calatheas
Simply you have to apply for Free Calatheas and will get your Free Calatheas at your door step with no any cost.
Click Here
, if you are Interested to get Free Calatheas. Advertise here