Bird cherry (Prunus padus)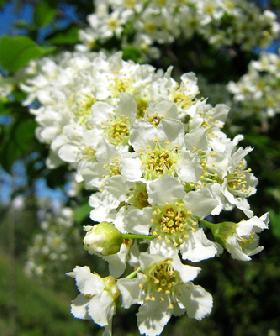 Origin Native
Bird cherry is a smaller tree than wild cherry and its fruits can only be eaten by birds: blackbirds are particularly fond of them.
It is a deciduous tree or shrub with a conical, asymmetrical crown, usually with hanging branches. In May the almond-scented, white flowers produce a stunning display, hanging in long racemes; flowers are arranged along the stem, where the lowest flowers open first and then the others in sequence towards the tip of the stem. Shiny, pea-sized, purple-black, bitter fruits follow these. The oval, dark green leaves turn bright yellow to provide good autumn colour.
The bird cherry will tolerate most soil conditions; it is frost-resistant and thrives on urban sites.
The Bird Cherry (Prunus padus) is a species of cherry, native to northern Europe and northern Asia, growing even north of the Arctic Circle in Norway, Sweden, Finland and Russia. It is the type species of the subgenus Padus with flowers in racemes, which are hermaphroditic and pollinated by bees and flies; it is a deciduous small tree or large shrub 8–16 m tall.
Characteristics
The English name refers to the berries, which are astringent and bitter-sweet, seldom used in Western Europe (but commonly eaten in Russia and elsewhere), readily eaten by birds, which do not taste astringency as unpleasant. It was used medicinally during the Middle Ages, and the bark, placed at the door, was supposed to ward off plague.
Another name is the Hagberry, and the fruit can be known as hags. It is also sold as an ornamental in North America as a May Day tree.
There are two varieties:
* European Bird Cherry Prunus padus var. padus. Europe and western Asia.
* Asian Bird Cherry Prunus padus var. commutata. Eastern Asia.
Foliage Green
Flower White, April to May
Moisture Average (Average)
Sunlight Full sun to Part-shade

Free Bird cherry (Prunus padus)
Simply you have to apply for Free Bird cherry (Prunus padus) and will get your Free Bird cherry (Prunus padus) at your door step with no any cost.
Click Here
, if you are Interested to get Free Bird cherry (Prunus padus). Advertise here