African Daisy ( Dimorphotheca aurantiaca)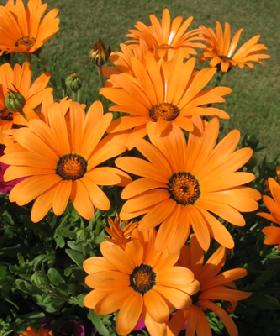 The African Daisy (Dimorphotheca aurantiaca), also known as the African Cape Marigold, are one of the colorful flowers for a beautiful garden. The African daisy flowering plant is excellent for naturalized areas and as ground cover for large areas, for parking strips, borders, large pots and tubs.
The African daisy flowers are 1-1/2 inch wide flowers, which close at night, in the shade, and during cloud cover. The African daisy flowers are in shades of white, orange and yellow and apricot. Synonyms of African Daisy are: Dimorphotheca integrifolia, Dimorphotheca calendulacea, Dimorphotheca dentata, Dimorphotheca aurantiaca.

Facts About African Daisies
* African Daisies are herbaceous annuals.
* African Daisies grow to a height of 1 - 1.5ft.
* African Daisies produces a fruit with abundant seeds.
* The genus name, Dimorphotheca, means two shapes of seed since the plant produces two non identical seed forms.
* African Daisies blooms during April-August.
* African Daisies start to germinate in 10-30 days.

Growing African Daisies
* African daisies need full sun and a light dry soil.
* African daisies seeds can be sown in spring after frosts.
* Just cover the seeds and keep them moist but not wet.
* Sow them about 4 inches apart in the soil.
* Add a general purpose fertilizer to the African daisies once a month.
* African daisies doesn's transplant well, so plant where you want them.

Care of African Daisies
* Remove old and spent leaves to prevent fungus infections.
* When repotting see that the crown of the plant is above the level of the soil.
* Generally, African Daisies do not need insecticides or fungicides.
* If a problem arises treat them with an insecticidal soap and /or fungicide.
* Mulching is done around but not on top of the plants with 3 inches of organic compost.
* Water the plant well weekly until soil is completely moist.
Plant Care
Planting:
Propagate from the seed in early spring in containers (late fall or early winter in mildest climates). Plant out when the threat of frost has passed. Another option is to sow seeds directly into the ground in midspring when the climate has warmed up.
Plant Growth:
Use in broad masses as ground cover, in borders and parking strips. 4-12 inches tall. Dimorphotheca does best in full sun. Grow in a sheltered site. Good container plants. They also work well in a border or bedding. Perennials are often grown as annuals.
Blooming:
Daisy flowers, come in a variety of colors such as white, yellow, pink, and orange, with violet-brown or violet-blue central disks. Flowers will close when shaded, at night, or when an overcast is present. Flower heads 1.5 inches across. Blooms from summer to first frost. Deadhead on a regular basis in order to lengthen the flowering period.
Soil and Irrigation:
Light soil with moderate watering. Soil must be well-draining.
Fertilization:
Fertilization is not generally required for good plant output.
Pruning:
Pruning is not usually necessary.
Pests:
Problems include wilt, rust, and gray mold.
Kingdom : Plantae
Division : Magnoliophyta
Class : Magnoliopsida
Order : Asterales
Family : Asteraceae
Genus : Dimorphotheca

Free African Daisy ( Dimorphotheca aurantiaca)
Simply you have to apply for Free African Daisy ( Dimorphotheca aurantiaca) and will get your Free African Daisy ( Dimorphotheca aurantiaca) at your door step with no any cost.
Click Here
, if you are Interested to get Free African Daisy ( Dimorphotheca aurantiaca). Advertise here