Begonia Fairlady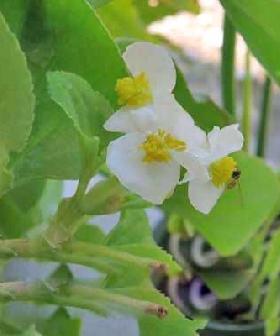 The Begonias are of African origin and were first introduced by the British.
They have adapted to the Indian climate and are very comfortable both in the Southern as well as the Northern region.

Growing Habits:
The Begonias grow best is mellow sandy loam enriched with clean leaf-mould, and in the pots that are well drained. They do not like stagnant moisture. They grow fast and require rather liberal pot-room, but it is good practice to keep the plants in the smallest pots consistent with healthy growth and free development. If by chance you grow them in large pots which provide more pot-room than the roots can fill in a reasonable space of time, it will result in souring of the soil and an arrest of growth altogether. They must be shifted on as necessary requirement, and only the robust plants must be grown larger pots and the weak ones kept in small pots. The soil must always be rather light.
These Begonias are normally grown as Bedding begonias. They are neat, compact plants that prefer shade but will adapt to full sun. They require protection from frost.

Soil Type:
Theses Begonis grow best in moist, well-drained soil.

Watering needs:
They need regular watering in dry weather, especially if planted in a sunny locations. Begonias will last a second season, and can be cut back after winter.
Common name: Begonia Fair Lady
Botanical name: Begonia sempeflorens
Family: Begoniaceae (begonia family)

Free Begonia Fairlady
Simply you have to apply for Free Begonia Fairlady and will get your Free Begonia Fairlady at your door step with no any cost.
Click Here
, if you are Interested to get Free Begonia Fairlady. Advertise here