Adonis Blue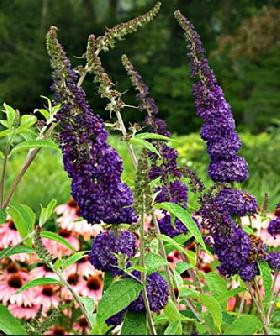 # Scientific Name: Buddleia davidii 'Adonis Blue'
# Best Soil: Adapts to many soil types, but prefers well-drained loam
# Light: Full sun to part shade
# Growth Rate: Fast
# Foilage: Green
# Fall Color: No fall color
# Bloom: Blue panicles of tiny flowers several inches long
# Mature Size and Shape: Grows up to 10 feet tall and 8 feet wide in an upright, arching form
# Hardiness Zone: 5-9
# Plant Spacing: At least 5 feet apart for a border planting
The Adonis blue butterfly bush is one of the most striking varieties you can find.
They attract lots of butterflies and hummingbirds. The dark blue flower spikes create fragrant mounds of color from mid to late summer.
It grows tall very quickly and requires very little maintenance.
It is resistant to drought and deer, and the blossoms make an excellent cut flower for both casual and formal arrangements.
This large shrub can easily dominate a corner of the yard if left unchecked.
Landscaping Ideas
A Adonis blue butterfly bush is a perfect addition to a cottage garden. Its graceful arching branches tipped with blue blossoms make a delightful contrast to bright yellow or pink flowers beneath them.
The deep blue also looks lovely when paired up with white flowers such as daisies, delphiniums or peonies.
A blue butterfly bush really sets off all the colorful butterflies that are attracted to it. Red Admirals, Tiger Swallowtails and more love this plant. Bees are also attracted to this shrub, so planting one near a vegetable garden helps them find your tomatoes and cucumbers as well.
Butterfly Bush Care And Planting
Plant your Adonis blue butterfly bush in full sun if possible, though it will do fine in partial shade. Water it regularly to establish an extensive root system. They are easy to grow, and often sprout in areas disturbed through development or disaster. The butterfly bush is usually free of pests and deer prefer not to eat it.
While it loves well-drained loamy soil, it can tolerate some drought. A light feeding of general purpose fertilizer in the early spring is much appreciated. Pruning can be done after the plant has finished blooming or in late winter.
Due to its rapid growth rate, the butterfly bush can be pruned almost all the way back to the ground.
New growth begins in late spring, so don't be fooled into thinking it has died over the winter. Volunteer seedlings may become a problem in some areas, and they need to be removed before the kill the original plant.
Free Adonis Blue
Simply you have to apply for Free Adonis Blue and will get your Free Adonis Blue at your door step with no any cost.
Click Here
, if you are Interested to get Free Adonis Blue. Advertise here