Bluebell (Hyacinthoides non-scripta)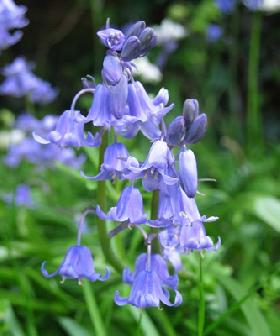 The bluebell, popularly thought of as Britain's national flower. It is a bulbous spring flowering plant .When growing en masse in woodlands it creates a dazzling display of brilliant blue, which is not only a great wild flower phenomenon, but also a British speciality .The fragrant bell-shaped flowers stand upright when they are in bud, but hang downwards, nodding in the breeze when fully open; they may be violet-blue, white or even pink on rare occasions, and have cream-coloured anthers. They are arranged in clusters of 4-16 on flower spikes (known as racemes), which have drooping tips .The narrow leaves are deep green, and grow to 45 cm in length .The unusual specific part of the scientific name 'non-scripta' means 'unlettered', and distinguishes this species from the hyacinth, which in Greek mythology sprang from the blood of the prince Hyacinthus as he died; in his grief at this tragedy, the God Apollo wrote 'AIAI' ('alas') on the petals of this flower .

Habitat
This species is found in deciduous woodlands, hedgrows, meadows, under bracken in upland areas, and on cliffs; it also occurs as a garden escape . The presence of the species in hedgerows and under bracken on pastures may indicate that the land was once covered in woodland .
Growing Bluebells from seed is a longer term option than buying Bluebell bulbs but it has several advantages:
- If you buy Bluebell seed from us you know that the seed is from un-hybridised wild Scottish plants.
- These plants will be the delightful, strongly perfumed, deep irresistable blue that you find only in Hyacinthoides non-scripta.
Once established your native Bluebells will not go berserk and spread spindly mulitcoloured blooms throughout your garden...instead, with time you can create your own Bluebell wood.
You can raise plants from seed to plant once mature, or sow directly in place.
Bluebells prefer a shady site and are ideal for planting under deciduous trees.
Plant in autumn/early winter (September - December), mature plants will flower in mid to late Spring (late April - May)
Kingdom Plantae
Phylum Anthophyta
Class Liliopsida
Order Liliales
Family Liliaceae
Genus Hyacinthoides
Size
Flower stalk length: 20 - 50 cm
Leaf width: 7 - 15 mm
Leaf length: 20 - 45 cm
Free Bluebell (Hyacinthoides non-scripta)
Simply you have to apply for Free Bluebell (Hyacinthoides non-scripta) and will get your Free Bluebell (Hyacinthoides non-scripta) at your door step with no any cost.
Click Here
, if you are Interested to get Free Bluebell (Hyacinthoides non-scripta). Advertise here