Summer Bulbs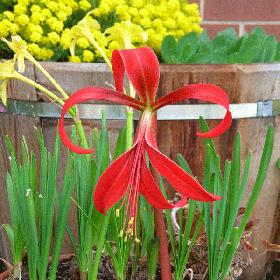 Summer flower bulbs are the exclamation points in any garden. Who can be ignore clumps of gladiola with their rainbow colours or lilies with their amazing fragrance and garden presence? Who would want to? The summer flower bulbs listed below all bloom during the summer and you can access further information by clicking on the specific name

General Care Tips
In general though, summer bulbs want full sunshine. The odd exception is noted.
Summer flower bulbs also want decent soil for the most part.
While spring flowering bulbs will thrive in poor soil, no fertility to speak of and terrible conditions of heat and cold, summer bulbs are a little more precise in their requirements.
Good soil with compost added every spring is an excellent starting point for good summer bulbs.
And do remember that many of these bulbs have to be dug up and stored for the winter in cold climates.
These bulbs almost uniformly want excellent drainage. No bulb does really well in heavy clay soils or soils that hold moisture. The bulb rots. (I note that when a bulb rots, the gnashing and wailing from the gardener increases proportionally to the level of bulb death.)

Summer Flower Bulb List
Achimenes is one of the small bulbs with lots of flowers. Not used nearly enough in container gardens or in shadier situations.
Acidenthera
Agapanthus

My agapanthus won't bloom. Why?
Amaryllis belladonna is the real amaryllis, the winter flower is a Hippeastrum. Go figure.
Anemone coronaria or windflower is a tender summer flowering bulb in reds, blues, pinks and whites.
Babiana or Baboon Flower is a tender South African native. Here's the answer to whether you can grow it.
Begonia are gorgeous but love the warmth (not sun)
Bletilla striata is a member of the orchid family and a real beauty in the part shade.
Calla lilies (Calla palustris) are superb and hardy flowering plants that will delight the bog garden grower for many years.
Camassia are one of the most underused perennial bulbs in the garden.
Cannas Flower Bulbs are showy tropicals you definitely want in containers or in your big beds.
Colocasia or Elephant Ear Bulbs are spectacular tropical tubers that put on a massive foliage display and are well worth growing. Here's how to grow and overwinter them.
Crinum or Swamp lily is a fun little bulb that is excellent for balcony gardening or bulb container gardening.
Crocosmia are wonderful bulbs with flaming flowers. Put a few of these together in a garden bed and watch the visitors flock there in late summer.
Dahlia are one of the four top summer blooming bulbs by the number of bulbs sold.
Planting dahlia information here or
Storing dahlia bulbs information here Even though they're actually a tuber and not a bulb.:-)
Eremurus is a tuberous rooted member of the lily family that blooms in early summer but is one of the most stunning plants for the early summer garden.
Eucomis or Pineapple Lily is a bulb that more folks should consider growing. Looks like a pineapple. Fun.
Freesia are a gardener's dream and here's the tricks to growing them.
Galtonia candicans has nodding, white, fragrant flowers in mid-summer. What else do you need to know? (click the link to find out)
Gladiolus are wonderfully huge flowering and easy to grow
Gloriosa or Flame Lily is a tender vine with a glorious flower.
Hemerocallis or Daylilies aren't really lilies but they are easy to grow and bloom for a very long time if you follow the suggestions in this article.
Hymenocallis or Summer Daffodil is a tender Peruvian bulb that makes an excellent mid-summer show in the garden or containers.
Liatris or Gayfeather is a plant that should be grown much more often. There's one for every full, hot sunny garden with decent soils.
Lilium or lilies are delightful bulbs and so easy to grow it is sinful. One of the most historic of flower bulbs.
Ornithogalum or Chincherinchees are white summer bloomers with a funny name. Grow in shade and damp soils.
Oxalis is one of those wonderful small bulbs for containers or the front of the perennial border. Here are the details of growing the tender species.
Ranunculus make excellent cut flowers for summer bouquets.
Sparaxis corms are great for containers.
Tigridia or Mexican Tiger Flower demands specific care and attention if you want to succeed.
Zantedeschia is also called Calla Lily and you'll want to grow this plant for sure.
You definitely want to get some tips on calla lily garden design
Zephyranthes are a small flowering bulb but one you can easily start and increase from seed.
Advertise here